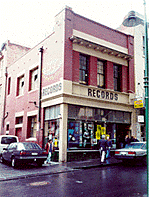 Welcome to the Au Go Go Record Store, which first opened its doors in 1987.

We specialise in independent/ alternative/underground releases from all over the world, in every concievable genre. We also have a large pre-loved record department upstairs, chock-full of highly collectable goodies. And we've just begun to sort through our vast hoard of rarities, available by mail order, which we're sure will be of particular interest to our interstate and overseas customers!

If you want to check out what's new in the store this week, go to the new releases section. If you want to know what we think is particularly groovy at the moment, check out the recommendations on our staff page.

If you're ready to go shopping, follow the link to our mail order catalogue.

Visitors to our store will find a pin-board on the wall, whereupon we display photos we've taken of visiting Au Go Go bands, stars and other cool people. Check it out in our photo gallery.